In 1938, a Ukrainian-born grandmother created one of art's biggest shocks – but it was attributed to the US painter Jackson Pollock. For International Women's Day, Kelly Grovier explores the influence of Janet Sobel.
This is the way the story has always been told: in 1947, Jackson Pollock, the pioneering American painter whose rugged name rhymes with the verve of his virile persona, finally lost patience with the fussy finesse of careful brushstrokes that had defined art history. Chucking his bristles and easel aside, he grabbed some sticks and started flinging paint directly on a canvas he'd stretched out on the floor. With a flick of his wrist while galloping around the work like a ranch hand roping a rampant calf – not so much painting a passive image as lassoing an untamable one – Pollock had hit upon a fresh new mode of energetic artistic expression, one with muscle and swagger befitting the wild west of his Wyomingite birth and the wide, dry lightning plains of his unbridled psyche.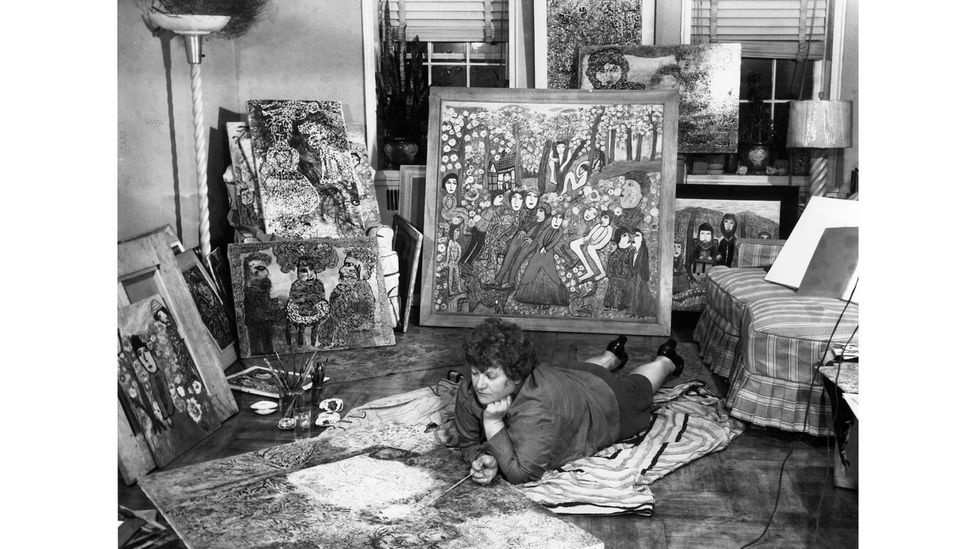 Janet Sobel only took up painting in later life (Credit: Gary Snyder Fine Art NY)
The true story of the birth of both the "drip" technique and so-called "all-over painting" (in which the surface of a work is approached holistically from every direction), is no less remarkable than the famous fable: in 1938, a 45-year-old Ukrainian-born grandmother, with no previous artistic training, began fiddling around with her son's painting supplies and changed the course of cultural history. Born Jennie Lechovsky in a Jewish town in eastern Ukraine in 1893, Sobel escaped the violence of anti-Semitic pogroms (in which her father had been killed), and arrived in New York with her mother and three siblings in 1908, when she was 15. Much of the next three decades would be devoted to the rearing of five children who she had with Max Sobel, an engraver and goldsmith, whom she married the year after she reached Ellis Island. It was only when their 19-year-old son Sol, frustrated with his own artist development, palmed off his supplies to his mother in the late 1930s that Sobel herself began to experiment with making paintings.
"One story has it," according to the art historian Gail Levin, "that she began to draw on top of some of the drawings that Sol brought home from his art classes... Another is that Sol, while still in high school, had won a scholarship to the Art Students League, which, against his mother's wishes, he sought to give up. When she tried to convince him to continue, he reportedly exclaimed: 'If you're so interested in art, why don't you paint?'". She was a natural. Without any instilled deference to rules that mustn't be broken – and with the fearlessness of someone who had survived the traumas of religious persecution and the hardships of the Great Depression – Sobel unselfconsciously set about inventing art as if entirely from scratch.
She assaulted the surface of canvases laid out on the floor, orchestrating a liquid lyricism of spills, splashes and spits the likes of which had never before been seen
The first flush of works is characterised by a primitivist poetry of dreamlike forms floating in enchanted landscapes with a levitational allure that recalls the mystical visions of Marc Chagall, whose own fierce folkloric imagination had been forged by the violence of pogroms. But it isn't long before figurative storytelling gives way to a more ambiguously amorphous cadence of expression that strayed beyond Surrealist impulses to pure abstraction. With no inculcated allegiance to any artistic school or prejudice regarding the appropriateness of materials, Sobel began playing both with what a painting can say and how it can say it. Using unconventional implements such as glass eye-droppers to squirt paint and the strong suck of a vacuum to drag wet splatters into thin gossamers that no traditional brush could spin, she assaulted the surface of canvases laid out on the floor, orchestrating a liquid lyricism of spills, splashes and spits the likes of which had never before been seen.

If you would like to comment on this story or anything else you have seen on BBC Culture, head over to our Facebook page, or message us on Twitter.

And if you liked this story, sign up for the weekly bbc.com features newsletter, called The Essential List. A handpicked selection of stories from BBC Future, Culture, Worklife and Travel, delivered to your inbox every Friday.

;