The festive treat is flaky and crumbly on the outside, with a soft and sweet filling that can be made with a variety of ingredients like coconut, cashews and khoya (milk solids).
o
or Indians, the word gujiya (sweet fried pastry) will evoke one main association: Holi. This "festival of colours" celebrates the arrival of spring and, like most Indian festivals, is associated with myths and legends that commemorate the triumph of good over evil. It's celebrated across the country, but is more prominent in North India, where it's marked by people smearing coloured powder on their faces and bodies and drenching each other with coloured water.
The celebrations also include indulging in gujiya, a crescent-shaped pastry encasing a sweet mixture of khoya (milk solids), powdered sugar and nuts that's deep-fried to a golden-brown colour. It's flaky and crumbly on the outside, giving way to a soft and sweet filling.
[jump to recipe]
Almost every Indian state has its own version, with different dough, fillings and names. While it's called gujiya in Rajasthan, Uttar Pradesh and Madhya Pradesh, elsewhere it's known as pedakiya (Bihar), ghughra (Gujarat), karanji (Maharashtra), karigadubu/karjikayi (Karnataka), somasi (Tamil Nadu) and garijalu/kajjikayalu (Andhra Pradesh and Telangana). Gujiya is also made during the festival of Diwali, but the North Indian versions are firmly identified with Holi.
"Nothing signifies the changing seasons as do Holi and gujiya; the two are inextricably linked," said cookbook author Nandita Iyer, whose book The Great Indian Thali: Seasonal Vegetarian Wholesomeness was published in September 2022. In the book, she describes gujiya as the "hallmark sweet" of the season and the festival.
And yet, there's no definitive history to gujiya, or even its association with the festival. One popular reference links it to a 13th-Century predecessor, a sundried snack of honey and jaggery (boiled unrefined cane sugar) coated with wheat flour. Another insists that it originated in central India's Bundelkhand region (comprising parts of Uttar Pradesh and Madhya Pradesh) sometime in the 16th-17th Centuries. There is also speculation that it could derive from the Turkish baklava or the Central Asian samsa (the predecessor to a samosa); the former potentially brought by Muslim traders in the 13th-14th Centuries, the latter through chefs employed in the kitchens of the Mughal Empire around the 15th-16th Centuries.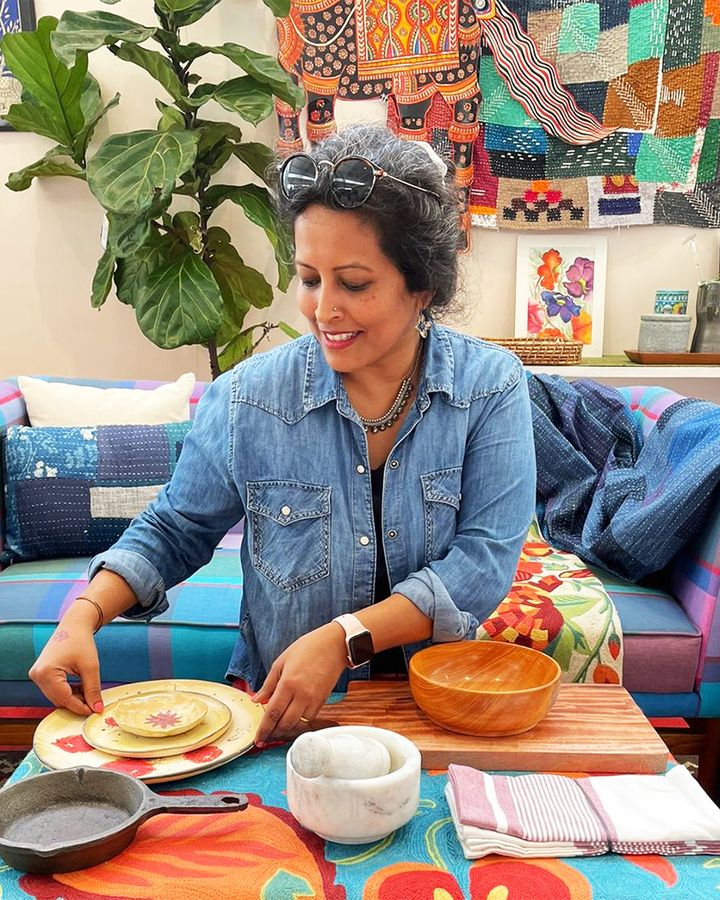 Nandita Iyer is the author of The Great Indian Thali: Seasonal Vegetarian Wholesomeness (Credit: Nandita Iyer)
For Iyer, the pastry holds bittersweet memories, and she came around to appreciating it in a serendipitous way. Growing up in Mumbai in a South Indian family, Holi wasn't celebrated at home and was off limits to Iyer. She wasn't allowed outside to play with friends since the festival inevitably fell close to exams, raising fears she might get sick. Neighbours would send gujiyas home with Iyer, but it was never her favourite because she associated it with not being allowed to play.
Years later in Bangalore, that changed. "Some time ago, around Holi, I was walking past a Bihari (someone from the state of Bihar) neighbour's house, when she beckoned me from her kitchen and gave me piping hot gujiyas. I took one bite and I fell in love," she said. "It was fresh, hot, crispy and so flavourful. 'So, this is what it is, I thought to myself.'"
But what fascinates Iyer is the versatility of gujiya. "The outer casing can be made with maida (plain or all-purpose flour, rava (semolina), or even whole wheat flour if you want a healthy version, though it will turn out chewy. For the filling, there's all kinds of things, such as combinations of rava, khoya, dry fruits, roasted nuts, coconut, jaggery and even chocolate," she said. "It can be flavoured with cardamom. You can add rose essence and chopped pistachios to make a version of baklava."
Unlike most other Indian sweets, gujiya is not cloying. "It's more a snack than a dessert," she said. "But there are those who ladle sugar syrup on top and layer it with flaked nuts and saffron. "At some sweet shops, silver foil is added as a decorative garnish.
In these days of health-conscious eating, Iyer said there are healthier versions of gujiya, such as making the filling with just roasted nuts and jaggery. But Iyer is not an advocate of these. "Frankly, gujiya is a festive treat and eaten once in a while, so maybe eat a little less rather than trying to make it healthy," she said.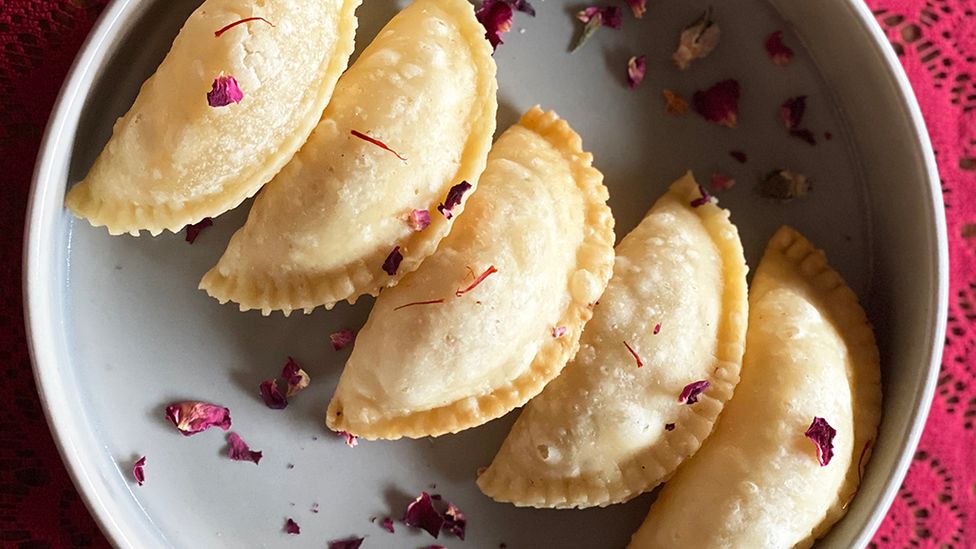 Gujiya is a hallmark sweet of Holi (Credit: Nandita Iyer)
Ingredients
For dough 200g (2 cups) all-purpose flour 4 tbsp ghee (soft)
For filling
2 tsp ghee
2 tbsp fine semolina
3 tbsp shredded desiccated coconut
2 tbsp cashew halves, finely chopped
12 almonds, finely chopped
2 tbsp raisins, coarsely chopped
100g (½ cup) solidified milk (can substitute reconstituted milk powder)
100g (½ cup) caster sugar
½ tsp green cardamom powder
2 cups ghee or neutral flavoured oil for deep-frying

Method

Step 1
Put the flour in a large bowl. Add the ghee and rub with your fingertips until it's well absorbed into the flour and you get the consistency of wet sand. When clumped together, the flour should hold its shape. If not, add a little more ghee and rub it into the dough. To this, add lukewarm water by the tablespoon (roughly a total of 80-90ml) to make a medium stiff dough. Knead until it's smooth. Keep covered with a damp tea towel for 30 minutes.

Step 2
Meanwhile, prepare the filling for the gujiya. Heat 2 tsp of ghee in a pan. Add the semolina and toast it over medium-low heat for 2-3 minutes. Add the coconut and toast for another minute. Move to a large plate.

Step 3
Place the cashews and almonds in the pan and toast over medium heat for 1-2 minutes. Add to the coconut mix. Mix in the raisins.

Step 4
In the hot pan, crumble the khoya and cook over medium heat for 5-6 minutes, stirring a bit until it turns somewhat golden in colour. Transfer it to the plate with the other ingredients. Mix in the sugar and cardamom powder.

Step 5
It's easy to shape the gujiyas if you have a gujiya mould. Divide the dough into 18-20g portions and roll into balls. Roll out each ball to a thin round, around 10cm (4 inches) in diameter. Place the round over the open mould. Moisten the circumference using a finger dipped in water. Place 1-2 teaspoons of the filling on the lower half of the round. Close the mould tightly so the edges get crimped and sealed. Remove the excess dough outside of the mould.

If you don't have a mould, roll out each ball to a 10cm (4 inch) round. Moisten the circumference using a finger dipped in water. Place the filling on the lower half of the circle. Fold the upper half over the lower half to make a semicircle. Press the edges down to seal. The edges can be crimped using the tines of a fork or pressed together and pinched and pleated around the edge to seal.

Prepare all the gujiyas and keep them under a moist tea towel at all times to prevent them from drying out.

Step 6
Heat the 2 cups of ghee or oil in a deep pan. When the ghee is medium hot, 175-180C (350F), fry 3-4 gujiyas at a time (depending on the size of the pan); reduce the heat to medium low heat if it seems too hot. Fry for a total of 15 minutes, so that the entire casing is golden on the outside and crisped up. The next batches may take slightly less time. These are best served hot, but they can also be served cold. The gujiyas will keep for a couple of days at room temperature and will last a week to 10 days when refrigerated.

(Adapted by BBC World's Table with permission from The Great Indian Thali: Seasonal Vegetarian Wholesomeness by Nandita Iyer, published by Roli Books.)

;